AN INTRODUCTION to Doctor's zone
DOCTOR'S ZONE EDUCATIONAL CENTRE was incorporated to impart quality education to students, preparing for various competitive examinations, with the sky-high ideas and commitment to excellence. It is a vibrant, dynamic and responsible institute of the country. The tradition of innovation and excellence continue with our quality of education that it imparts to engineering & medical aspirants and its dedication & devotion towards their success in different competitive examinations.

Today, DOCTOR'S ZONE EDUCATIONAL CENTRE stands apart and well above the rest on a distinguished platform, as an epitome of success. This could be achieved simply by virtue of the excellent teaching methodology that it has evolved, developed and implemented over the years. Since beginning our objective is to enable each aspirant to achieve success in different competitive examinations. In the pursuit of which, it has to its credit a team of outstanding faculty members added with the complete & finest study material, excellent coaching methodology and a stimulating academic environment. We believe that effective guidance is the primary need of every student, which would create motivation and encourage the students. It will also instill confidence to face all challenges and that is exactly what DOCTOR'S ZONE EDUCATIONAL CENTRE imparts in all its coaching programs.

Ever since its inception we are producing results in various competitive examinations. Every year, our students are securing top ranks in various competitive examinations, which speak volumes about our commitment to excellence and perfection in imparting quality education. For every course, we have a strategic & a well charted program, which aims at skills in a well organized manner so that it leads them like a self guided missile to unfailingly hit the target in the bull's eye.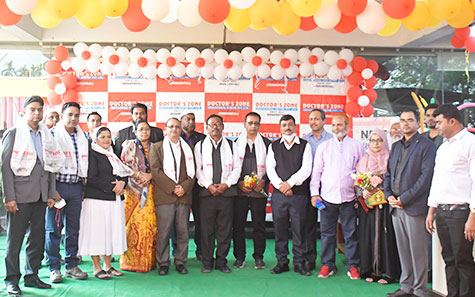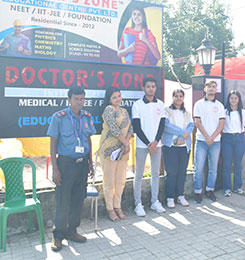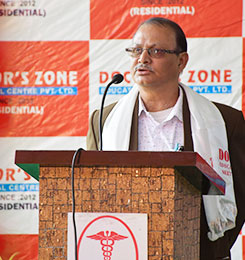 Experienced Faculties

Professional Coaching

100% Doubt Clearance

One to One Discussion
What Students Say

I am so glad I joined Doctor's Zone Institute. Teachers here are truly the friend, philosopher and guide.
-- Soumen Nath
(Maths Student)
Doctor's Zone Institute is the best for getting ready to crack medical crash courses. And the regular courses are very much student friendly. Thank you, teachers, for my success in engn course.
-- Prasun Saha
(ENGN Student)
The integrated programmes of DZI are pretty helpful to have the knowledge about something from the very base. I thank god for the moment I fell in such excellent hands.
-- Soumen Das
(MBBS Student)
When I joined Doctors Zone, I have no idea about NEET Exam, but day by day I developed all my knowedge about NEET exam and How to  crack NEET Exam . Faculty and DZs  team is very helpful for this.THANK YOU DOCTORS ZONE
-- Upashna Sharma
(Maulana Azad Medical College(Delhi))
I want to thanks faculty/ Management of DZ for all efforts.They have habit to making difficult topic easy to understand . I always enjoyed learning through classroom lacture.
-- DEBASMITA CHANDA
(MEDICAL COLLEGE ,BURDWAN)
All faculties and Management ways of explaining topic is extremely good.they state that the problem in such a way that I used to approach the solution before and they actually solved it.They explained every topic  in depth and helped me cracking NEET exam. Thanks
-- Abhishek Chettri
(Calcutta National Medical College,KOLKATA)